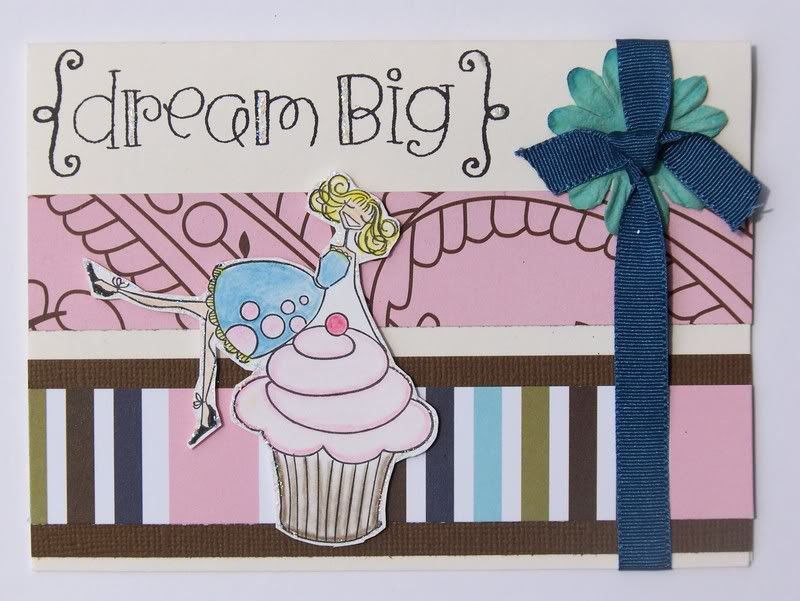 Supplies: Cards (Joanns), Cardstock(Bazzill), Patterned Paper and ribbon (American Crafts), Flower (Kaiser), Dream Big stamp (Doodlebug)

Sorry I left you guys hanging this weekend - we bought a jet ski so we were out on the water all weekend. Yesterday I spent the whole day preparing for my Bella class. The card above is one of the 4 we will make in class.
Back to the weekend - we went out to Harsens Island where friends of ours (Shanna & Al) were to get engaged. They have been dating for 3 years and Shanna had no idea it was coming. So, we get to the beach where she is all excited to see a ton of friends and relatives spread along the beach (she thinks they are there for a big party without reason) and Al decides to do a toast. Long story short, to watch Shanna's face through the toast (still excited and clueless) to the part where he turns to her and starts to get mushy (straight faced but still clueless) and the finale when he reaches in his pocket and she understands now what is happening and her face goes from a huge smile to a rush of tears to another huge smile... my God, is was so amazing. I was looking at them thinking, Wow... they are at the very beginning of their journey. How exciting for them. They have their whole lives ahead - their fabulous wedding, tropical honeymoon, pregnancy, the birth of their first child, turning their bachelor pad into a family home... I am so envious. I'm very happy to be where I am in my life, but of course, pieces of me yearn for the past when Tony & I were still fresh and new. When we were stupid in love throwing all caution to the wind. When we used to fly by the seat of our pants. What's cool, is we traded that love for something more mature. Something grown from a tiny seed. We just keep watering and pruning, and weeding (we're done fertilizing- LOL!) and this love just gets bigger and more beautiful. So Congrats to Shanna and Al for beginning their journey with their own little seed!
Your thought to ponder today: think about YOUR relationship. Are you watering and pruning and weeding as much as you should be? There is a wonderful piece of advice I once heard: If you go into a marriage giving 50% expecting to get the other 50% back, you're wrong. It is when you give 100% without fail, without question, it comes back to you threefold. Too often, we waste our time complaining about our spouse - just stop for a day and spoil them rotten - watch what happens.
J